Hi people,
I will start off with a confession: I've never been a fan of Valentine's Day. As I stated in my "Galentine's Day" post, I think it is the bully of holidays. However, due to some self-respect and affection for my boyfriend, I decided not to frown upon the couples that will invade the campus within the next 48 hours.
Valentine's Day is the ultimate deadline for the people who are just "texting" or "talking." The fact that they spend the night at a decent restaurant puts a plot twist to the relationship and either makes it or breaks it. Therefore I find it rather mean to expect everyone to celebrate the day in the same way. In the modern world, unfortunately there are way too many movies or books to force us to think that we absolutely need to be in love, which apparently has to be a balanced blend of passion, affection, peace, logic, attraction, patience, romance, spontaneity, support and respect. Mmm, sure, and Gandalf is my grandfather.
There is no "balanced". There is no "blend". There is no "choice". People are not checklists with legs, guys. Sometimes you get caught up for no reason – trust me, I would know. Love can be pretty blinding and cannot be forced on anyone, even on a night that makes a small Michigan town look like Paris. However if you are determined on an extreme end, then this is an option: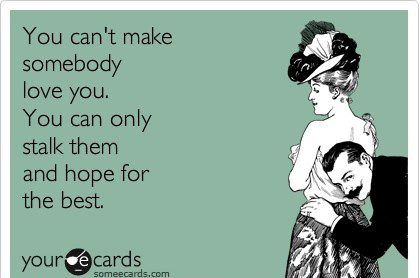 So, as a reminder of that, I put together a playlist for you. This playlist is supposed to remind you what a true love might sound like. Pay attention to the lyrics, some of them are pretty crazy.
Note: Play these songs to get in the mood of V-Day.
Happy Valentine's Day, gals!