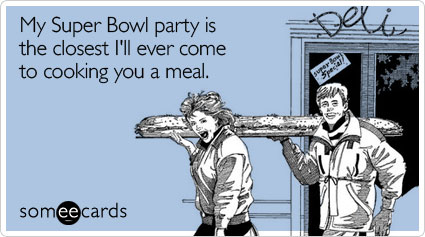 Hey everyone,
As you all know, the Super Bowl is on Sunday; the event that everyone looks forward to. Usually guys are psyched about the game and the girls are more interested in the celebrity appearances. As for me, I love everything about it, but above all, I think the food part is my favorite part. It is my own Thanksgiving only in smaller portions and snack sizes; not to mention it is the one time in the whole year that I do not feel ashamed for going for 3rds or 4ths because no one is paying attention to how many bowls of nachos I consumed and how much iced tea I had. There are times that some of the girls ask me if I am sure that I want to eat that… Well, spoiler alert: the answer is always yes.
So it is not like I'm Meryl Streep and Super Bowl parties are red-carpet events; meaning I did not spend my life running between sports party events. Unfortunately Turkish culture is not very familiar with the passion of football and art of snacking which is another reason that I am glad I live here now.
I don't know about you, but my friends don't offer me carrot sticks and ask them if I want to go on a jog with them; they are people who will invite me over to watch Harry Potter and eat cookie dough until we hit the point of a sugar crash. Maybe that's why we are friends, who knows. But going off of that, I came up with a food list that will not break your wallet or your oven, because college is tough and resources are very limited.
Here are 5 things you can easily throw in together:
1. Biscuit Calzones
Ingredients: Pillsbury biscuit, Meijer all natural tomato sauce, pepperoni, mozzarella, cheese sticks
How-to: Heat the oven to 400F, spread the parchment paper on the oven tray, place the biscuits. Put sauce, pepperoni, mozzarella on the biscuit and top it with another biscuit. Make sure to stick the sides together so the creamy, cheesy goodness doesn't leak. Bake for 12 minutes. Enjoy.
2. S'more Dip
Ingredients: Milk, Chocolate chips, butter, marshmallows, graham crackers
How-to: Heat the oven to 450, kind of melt the chocolate ahead of time with milk to avoid burning. Place the mix in a brownie pan, put marshmallows on top and bake for 6-7 minutes. Din in with graham crackers.
3. Cookieception
Ingredients: Pillsbury chocolate chip cookie dough, double stuffed Oreos, milk
How-to: Preheat the oven to 350. Place chocolate chip cookie dough in muffin pans and spread, put Oreos in each one and close the top. Enjoy with milk after baking for 14 minutes.
4. Bum-less Burgers
Ingredients: Lettuce, cherry tomatoes, frozen meatballs, sliced pickles, bacon, think sliced cheese, mustard, ketchup
How- to: Bake the meatballs according to the instructions at the back of the bag, cook the bacon. Slice the tomatoes into two. Now this is critical, do not mix up the order or it will fall apart: Stick a half tomato (seeds- side looking down) onto a stick that is not much longer than a toothpick. Then stick the slice of pickle, a 1/4 strip of the bacon, mustard, ketchup, lettuce, a square of cheese, meatball. Enjoy all at once.
Extra: Bum-less because it is funnier than just saying bun-less… And I think that way because I'm actually 7 years old.
5. Potatoing
Ingredients: Potatoes, sliced turkey meat, salt, olive oil, herbs and spices, sliced cheese, ranch
How-to: Bake the thinly cut potato slices with herbs, spices, salt and olive oil. Approximately 10 minutes before they are done, put the sliced cheese and 2 minutes before it is done put turkey meat on each. Stab with toothpicks, enjoy with ranch.
Extra: Why potatoing? I coined the term when I was eating potato chips all day without moving from the couch. With this deliciousness, you can do the same, minus getting up every 5 minutes to get water because these babes are not as salty as chips.
Optional
If everything falls apart, Crust 54 in downtown has discount for Hope students so you have that to fall back on. But don't give up on yourself just yet; if you can handle reading Candide without falling asleep, you can handle making a dip.
Have fun on Sunday,