Hi guys,
Caution: Read further only if you are single and intending to protest Valentine's Day.
So as you all know Valentine's Day is around the corner with all its sappiness; as a response to that, beloved Leslie Knope coined the "Galentine's Day" which serves all the singles out there or the ones who want to get the "singleness" out of their system with their frineds. Frankly, I think Valentine's Day is the bully of the holidays. Love is forced on many people, fake smiles are adopted and for one night, everyone pretends like they will have the pseudo-spark tomorrow even though they know the only thing they are having tomorrow is a tomato-basil bagel, coffee and curious thoughts of "when is NY Times going to accept that there isn't going to be a ceasefire between Ukraine and Russia, while Putin is in Kremlin??" Personally, that is what I am most concerned about right now. Or this: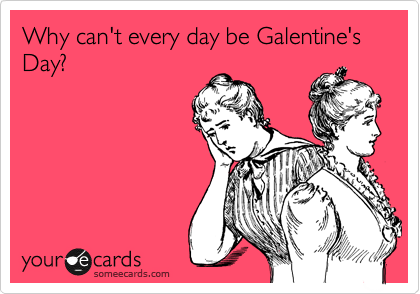 Save yourself seven angry tweets, one Facebook status about how you don't care about Valentine's Day and the infinite time that you will spend on checking if you have service on your phone or not, just in case if he calls; instead, cross to the dark side and join us with Galentines Day Festivities! We have chocolate.
For the ones who are new to the concept, let me tell you something, this is fool-proof. There is no one is going to say "Oh, you got reservation at place A rather than B? Mmm…" or going to think you should wear a really nice cocktail dress or nice suit-ish looking clothes. Although I am not making any promises, there might be heartbreak since you may upset some friends by eating the last piece of extra-cheesy pepperoni pizza. Excited much? Here is a guide have an amazing Galentines Day with your friends at 20-something:
Step 1: Gather around your friends. Make sure they are in stable stages aka make sure there is no one who will want you to take away their phone so that they don't text their ex.
Step 2: Tell everyone that it is an unhealthy potluck and that they should all bring stuff like nutella dipped toblerone pieces, calzones, pasta, pulled pork, cake, truffles, etc.
Step 3: Create a playlist for the night. Personal recommendations are: Oh Land, The Bravery, Florence and the Machine, Peter Bjorn and John, Phoenix etc. The goal is to keep the beat up, but not turn the place into a party.
Step 4: Pick movies like Harry Potter, Godfather, etc, NOT THE NOTEBOOK.
Step 5: Don't forget to include the dress code of the night in the invitation: PJs.
Have fun,