According to a recent Teaching with Technology survey, about one third of faculty feel as if they do not have access to adequate support for developing their skills with technology and teaching.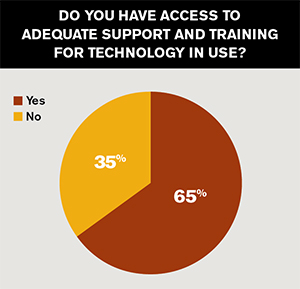 I wonder what the results of such a survey would be at small liberal arts colleges?
One area that the survey did not cover:  "training in the use of pedagogy to support instruction with technology."
Because teaching with technology is not just about learning how the tech works.  It requires redesign of how classes work.
Since online units, hybrid classes, and fully online classes are now part of the normal teaching world, shouldn't our goal be something better than "adequate access" to the professional development educators need?  To help teachers have many tools in their toolboxes, from which they can pick to use when needed?